Unlocking Data Sovereignty with DatDot
Embark on a transformative journey as we delve into the revolutionary world of DatDot with Nina Breznik and Alexander Praetorius. Discover how this peer-to-peer project empowers users, safeguards privacy, and ensures data availability, all while reshaping the digital landscape.
The team at DatDot, led by Nina Breznik and Alexander Praetorius, is building a secure, end-to-end encrypted system with multiple copies of data available at all times. Even when you're offline or on the move, your data will remain accessible. They utilize a sophisticated proof of storage and proof of performance algorithm to ensure data integrity and connect users with surplus storage to those in need.

Fueled by community support and grants, DatDot pioneers a finance model that rewards open-source initiatives. Their commitment extends to the development of a Data Vault, a one-stop solution adhering to peer-to-peer app standards. Seamlessly backup and switch between apps, empowering you to take control of your data effortlessly.

Join the DatDot movement today and embrace the journey towards data sovereignty. Let's reclaim control over our digital existence and usher in a new era of privacy, security, and empowerment. Together, we can redefine the rules of the digital universe.

So, dear wanderers of the digital realm, let's take the leap into a future where data sovereignty is within our grasp.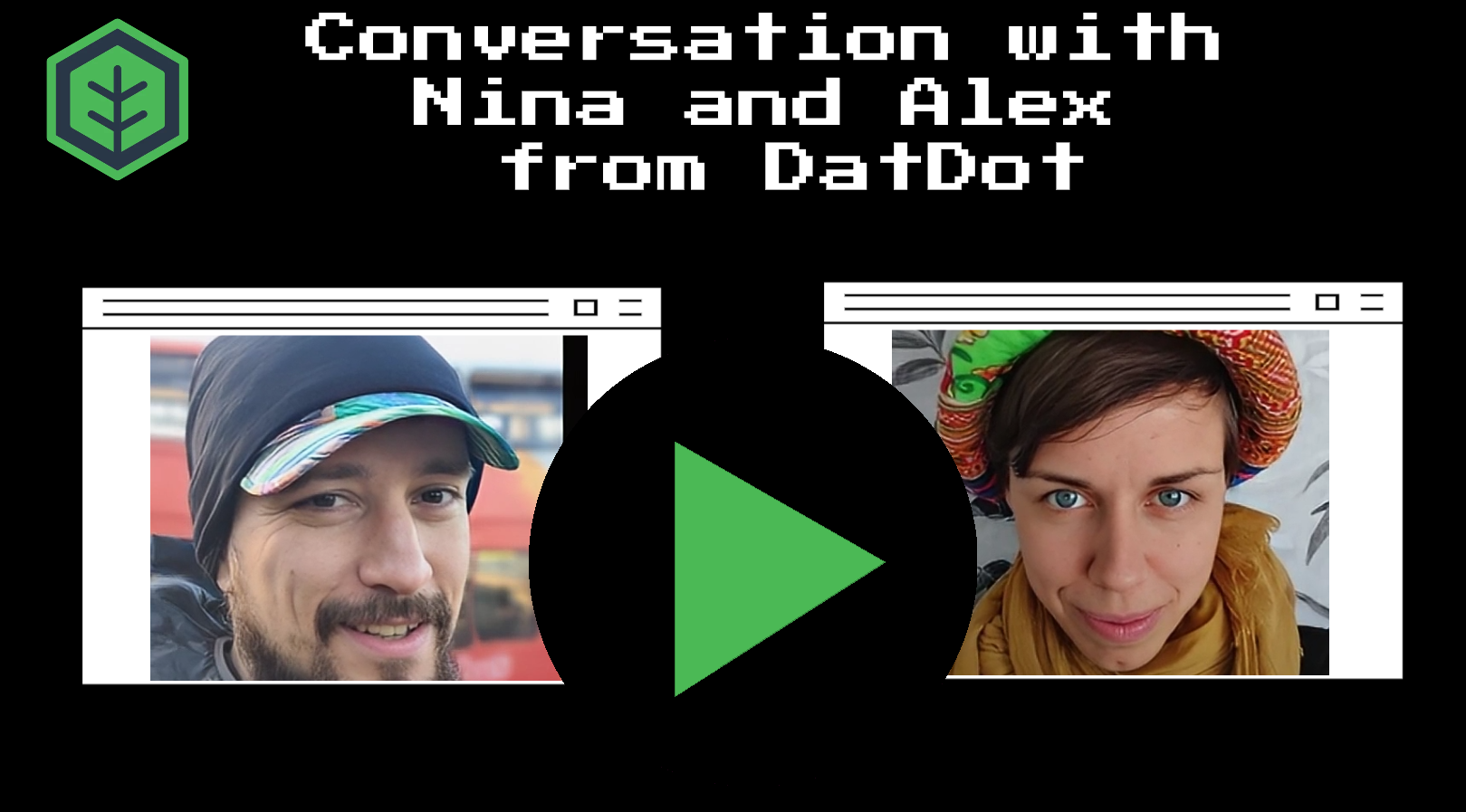 Interview Summary #
The conversation discusses the problems with centralized servers and the benefits of peer-to-peer hosting for data control and sustainability.
00:01 Data should be in the hands of users for sustainability and privacy
02:51 Building a secure, end-to-end encrypted system with multiple copies of data available.
05:30 DatDot provides offline storage and backup for peer-to-peer apps.
07:57 Data backup is crucial in a future with no servers
10:29 The project is financed by the community and peers, with some grants and individual donations.
12:57 DatDot is open source and the code is stored on GitHub for now
15:10 Current work focuses on updating to Hypercore version 10 and integration with Data Vault for better control over data
17:28 Goal is to build peer-to-peer infrastructure and encourage community contributions
DatDot Links #
Github
Website
Discord
Twitter
---
Dat Ecosystem #
This interview was conducted as part of the Code for Science & society grant, awarded to enhance interoperability between the various projects within the Dat ecosystem.
Donate to support volunteers & our independent work at Dat Ecosystem
Open Collective: https://opencollective.com/dat
Stay connected in this jungle of confusion that we call the internet. With so many changes happening, it's important to have outposts in various places.
Webpage
Open collective
Cabal p2p chat
Keet p2p hangout
Mastodon
Matrix
Reddit
Github
Twitter
Discord
Youtube